Kitchen renovation projects are one of the best gifts that you can give your house. Start your new year by remodeling your kitchen. After all, the kitchen is the heart of your house where you do not just prepare or eat meals, but spend the most precious time with your family. This is also a place where you pour tea for guests, laugh, and have a great time while having the full family for Christmas and Thanksgiving dinner, arranging birthdays, and more. You must make sure that you worship this particular nook of your house.
How to Design Your Dream Kitchen with Cherrywood Cabinets & Other Wonderful Elements?
So what should be your first step?
Well, finding the trending cabinets of 2022 should be your first job as they contribute a lot to how your kitchen renovation looks. An efficient, spacious yet stylish cabinet is what you should look for. If it can make your kitchen look warm and inviting, what more do you want?
I personally think cherry wood cabinets would work wonders for your kitchen. It will add so much charm to this corner of your house. They are widely available and the grain pattern is wonderful. The best part is that cherry wood cabinets change color with time, which means you are actually investing in two cabinets at the price of one! Yes, you read that right.
These cabinets make a kitchen look inviting and dated. You can style them as you like. There are so many color stains to choose from! You should balance the busy pattern of cherry wood kitchen cabinets with muted tones of wall colors. You can even opt for wallpaper with subtle prints and patterns.
The warmth and beauty of cherry kitchen cabinets are unparalleled. It works well with contemporary and traditional kitchens. You can opt for a light cherry stain or a dark one. The rich reddish-brown tint can give your kitchen a very regal look and that too, within budget. If you want more affordable options, you can even go for the RTA ones. Trust me, you wouldn't regret buying them as they are as good as normal ones.
Wondering about the durability?
Well, let me tell you that cherrywood cabinets are one of the most durable ones that you can opt for. Talk to your local shop that sells RTA cabinets wholesale.
You should also go for a simple kitchen island that will complement your kitchen cabinets. To make sure that your kitchen looks bright, go for quartz counters and tile backsplash. Trust me, you wouldn't regret it. You have to ensure that everything works around the cabinets.
It is all about adding character to the space and pouring all the love while you design it. A kitchen is a place to make memories. People will talk about your kitchen and also judge you. If you design it well, be ready to earn compliments like never before.
Whether you have kids always in your kitchen asking you to help you with their homework or get a lot of guests, cherry wood cabinets are the right pick. They can withstand daily scratch is and would last you for years. If you check with any local cabinetmaker or wholesaler, then you will find cherry wood cabinets easily. This hardwood has a beautiful Polish finish, which is extremely attractive.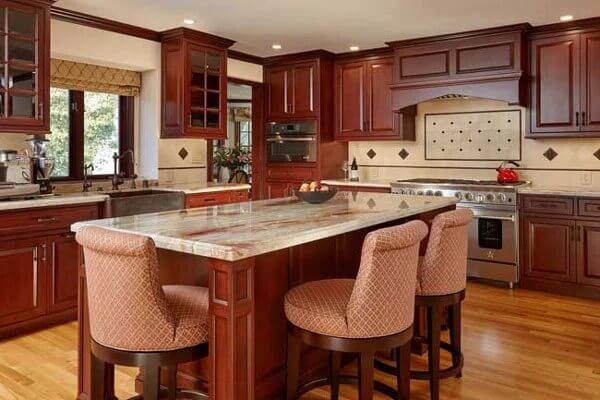 Cherry wood, when exposed to ultraviolet rays, gets a nice stain that will make sure that your kitchen looks better. Wondering if you need to do a lot of work to maintain it or not? Well, you just need to buy the cabinets every once in a while just like you do with other cabinets. Cherry wood cabinets will make sure that your kitchen is functional as well as stylish.
It is as famous as shaker-style cabinets. To balance the rich color of the cherry wood cabinets, I would ask you to go for white window treatments. It will obviously complement the dark cabinets. For a timeless look, you should include hardware in brushed gold and satin nickel.
They will be able to make the cherry cabinets pop out even more. Make sure you choose the appliances and sinks with care. When buying cherry wood cabinets, I would suggest you go for a cabinetmaker who is known for their quality. Read as many testimonials as possible so that you only offer the best.
This is an investment that you make once in many years. You will not buy cherry wood cabinets now and then. And thus, you should only settle for quality. Pendant lights will also look beautiful for this kitchen renovation project. Go for a drum-style pendant if you were in a doubt and you will not read better.
You should also visit the flea market to get some great products that will make the makeover even better.